By Sri Skanda's Warrior of Light
---
July 26, 2000
For the past six months, I have been continuously singing Kanthar Sashti Kavasam everyday, as instructed by Lord Murugan in one of my earlier dreams (See: "Bakthi - Kanthar Sashsti Kavasam: Sing").
However, as the months passed, it became increasingly difficult for me to sing Kanthar Sashti Kavasam everyday. My job, personal life, and family, would make singing with a peaceful mind very challenging. Often, I would go to my car late in the night and sing the Kavasam because no-one (i.e. parents) could distract or request favours from me.
As a result, I found myself very drained in terms of my energy level. My memory and job performance was poor due to lack of sleep. My time was constrained due to continuous and time-lengthy requests by my employer and family to perform certain tasks. Yet, by God's grace I still was able to continue my duty of fulfilling Sri Skanda's request for 6 months continuously everyday.
This week (on July 24th), I completely forgot to sing Kanthar Sashti Kavasam, and so ended the six months of continuous singing. I was so overwhelmed by work and family pressures, that this duty slipped my mind. I was also exhausted and hence, went to sleep.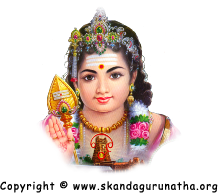 In my dream, I found myself in a temple and a very fair and beautiful boy (Murugan?) stood smiling at me. He looked exactly like the picture shown on the skandagurunatha homepage [See picture on right]. He had a sparkling crown on his head, ears and neck adorned with sparkling jewelry. Oh my God! He was so pretty that I almost mistook Him to be a girl! He came up to me and whispered into my ears a song, which I clearly remembered when I woke up. He sang into my ears the following Thiruppugal song:
From Thiruppugal (Eru mayil eri vilai):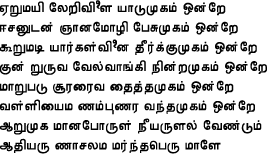 Transliteration:
ERumayil EriviLai aadum mugam onRE
eesanudan NYaanamoLi pEsum mugam onRE
kooRum adiyaargaL vinai theerkkum mugam onRE
kunRuruva vEl vaangi ninRa mugam onRE
maaRu padu soorarai vathaitha mugam onRE
vaLLiyai maNam puNara vantha mugam onRE
aaRumugam aanaporuL nee aruLa vEndum
aathi aruNaasalam amarntha perumaaLE.
Meaning:
One face frolics mounted on the peacock;
One face speaks the mystic mantra "Aum" with Lord Siva;
One face eradicates the effects of deeds done by devotees who chant your name;
One face throws a spear, which pierces the hill called Krauncham;
One face annihilated the opposing Suran and His asuric hordes;
One face came to marry Valli;
Please inform me the mystic significance of the six faces!
Oh Primal One! Oh Lord residing at the Hill ThiruvaaNamalai!
After He sang the entire Thiruppugal song into my right ear, Murugan then vanished into thin air. I then awoke.
I thought deeply about this event in relation to the past hectic months and arrived at the only sensible meaning of this dream. Lord Kantha has given me another instruction — to sing Arunagirinathar's Thiruppugal in place of Kanthar Sashti Kavasam. Moreover, this small eight-line song is equivalent in its potency and efficacy to the 240+ line kavasam. From that day onwards, I sing this song everyday. I do, however, continue to sing Kanthar Sashti Kavasam but only on festive occasions such as during the Kanthar Sashti virutham (fast).
See also:

Thiruppugal