By Swami Sivananda
---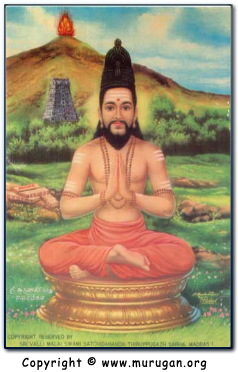 The famous verses of Arunagirinathar are the Thiruppugal songs. He has given 16,000 Thiruppugal songs, though about 1,300 only are now available. These sacred compositions are sung with great devotion and fervour throughout South India even today. Regular and systematic parayanam (recitation) of these songs is sufficient for the struggling souls to get solace, peace, and prosperity.
"Even if Muruga, Thy Name once told,
Your grace descends with Love manifold,
Let me Thy Name Muruga, Parama Kumara, once repeat,
And Thy grace to protect shall descend on me."
So prayed Saint Arunagirinathar in his famous, soul-elevating soul-stirring Thiruppugal songs. Mark the Bhava or feeling which inspired him to utter these verses. The Lord wants only your heart. Give unto Him your heart. Develop immense love to Him. Thirst for His Darshana. You will attain Him.
Follow the footsteps of this saint. Lead a life of simplicity. Have purity. Develop magnanimity. Cultivate nobility. Practise serenity. Draw inspiration from these Bhaktas. Entertain sublime thoughts, cultivate virtues, and be kind to all. Become humble. Take refuge in God. Sing God's names. See His indwelling presence in all. Serve everyone with intense love. Service is worship. Serve. Love. Give. Taste the nectar of immortality and enjoy the highest peace and bliss.
May the blessings of Arunagirinathar and other Bhaktas of Lord Shanmukha be upon you all! May the Divine Hand guide you in all your activities! May the Vel guide you to the realm of peace, plenty, prosperity, and enlightenment.
References:

Projectmadurai.org

Sivananda, Swami. Lord Shanmukha and His Worship. World Wide Web edition. India: Divine Life Society, 2000.