By Sri Skanda's Warrior of Light
---
May 17, 2006
Yesterday was Shankara-Hara Chaturthi. I wanted to do a Ganesha homa on this auspicious day because I wanted to get Sri Ganesha's blessings before writing my USMLE (United States Medical Licensing Exam) Step 3. I need to pass this exam in order to do start my residency as a junior doctor in 2007 on the appropriate H1B visa. I expressed these concerns and ambitions to my loving Lord in the form of a hand-written letter, which I was planning to offer into the yaagam (sacrificial fire) during the puja.
I arrived at the temple early in the afternoon (on May 16th, 2006) to do the necessary preparations for the homam. I assisted the priest in getting all the kumbums, coconuts, rice, deepam, ghee, etc. needed to conduct the homam. Next I helped my mother make prasadam for Sri Ganesha - we both agreed to make thyrr chaathum (yogurt rice), mothakam, pancha-amritam, and paayaasam.
The puja started at 5:00 pm and it went beautifully with Sri Ganesha's grace. When the poorna-ahouti came, I made the offerings along with my hand-written letter to Sri Ganesha. The offering completely burned as I watched Lord Agni carry our offerings that we made with love to the planes of Devaloka and Sivaloka.
I contemplated,"Hmmm...I wonder if that letter made it to Sri Ganesha in Sivaloka? I wonder if Sri Skanda will read it also? I wonder if Sri Skanda will also be with me during this final USMLE exam as He was with me during USMLE Step 1 and Step 2."
After poorna-ahouti was done, it was followed by abishekam, where we take the mantra-charged kumbams which were additionally charged by the yaagam and offer the powerful sanctified water onto the murthi installed in the temple. I was fortunate to assist the priest during this part of the ceremony. And as we could all feel Sri Ganesha's presence, the abishekam, too, went flawlessly.
Then came the puja. It was a wondrous sight to see our beloved Lord Ganesha adorned with the beautiful gold-colored patta (silk) veshti that my mother and I had bought him along with the exquisite garland. As I glanced at His wondrous form, I only then I realized what I fool I was to have forgotten my digital camera at my house. Oh well, I guess my words would have to suffice in painting the picture of the events that took place.
During the upachara portion of the puja, I sang,"angamum vEthamum" for Thevaaram; "katpanai kadantha sothi" for Thirupuraanam; and "umbartharu thENumaNi ...... kasivaagi" for Thiruppugal. I was humbled to offer those beautiful hymns along with all that food to Sri Ganesha!
The puja went perfectly and flawlessly — free from any obstacles. I then offered all the devotees with the prasadam that we had offered to Lord Ganapathi. The devotees loved it. They happily sat and ate the food which my mother and I served to them.
I left that evening happy that everything went well with the grace of God. That night I had a dream...
May 17, 2006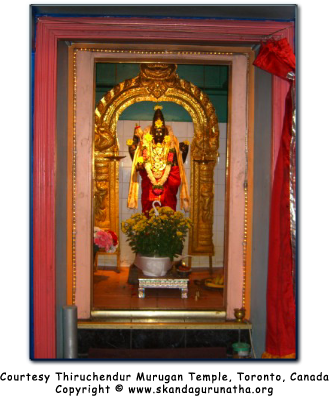 In the dream, I was back at the Thiruchendur Murugan temple and was standing outside the mulasthaanam (main shrine).
The beautiful statue of Lord Murugan was in the sanctum santorum of the temple and inside it was the priest (Selva-raajah gurukkural). He was standing inside the mulasthaanam beside the Murugan statue.
He smiled at me and said [in Tamil],"ulluku vaa (come inside the mulasthaanam)."
I realized at once that it was not the priest but Bhagavan Sri Skanda speaking through the priest's body because the priest has NEVER asked me to come inside the mulasthaanam. I did as I was told and proceeded to enter the main shrine.
As I set my right foot into the mulasthaanam, the tiny space that normally enshrines the murthi (statue) became an enlarged sanctum. Lord Murugan then turned his head and said,"anga-paarr (look over there)."
I glanced in the direction He indicated and to my surprise was a book. I walked over to the book placed on a small table. The desk looked familiar - it was my study desk - the same desk I am using to study for my exam!!! I then opened the book and read its contents; it looked like something I read before - it was my notes from which I was studying for the USMLE Step 3 exam!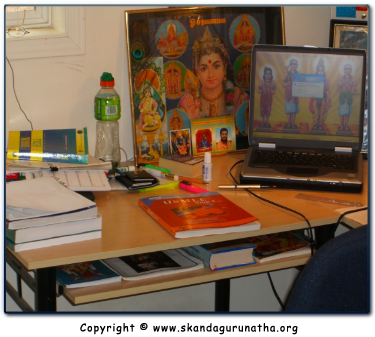 Murugan then said [in Tamil],"ithu-eL-laam (pointing to the book) nalla padi-chutu-vaa...uN-da sotha-naikal nalla vaara-vum."
He then asked [in Tamil],"unnakku enna vendum? (what do you want?)"
I looked at the beautiful Murugan statue and replied, "ennaku-avaR thaan-vendum (I want him — Lord Murugan!)"
Upon saying those words, I was no longer in the mulasthaanam but transported elsewhere to a rural area — I only presumed it to be India. There were many people just going past me as if I was invisible.
Then someone stood in front of me, a short little person no taller than 5 feet with a long grey beard and lots of hair on his head (??? Murugan or Sri Agathiyar????). He had a youthful look inspite of his aged beard.
The first set of words He spoke to me was [in Tamil],"Follow me."
He then quickly ran to a cart and leaped up on top of it. I thought to myself,"How does this old man have this much energy?!"
The cart then immediately took off as soon as that person sat on top of it. He did not wait for me, so I quickly started to walk fast to catch up to the cart, but the cart sped up. So I picked up my speed and began jogging lightly.
He said [in Tamil],"Run faster, look who is behind you."
I briefly glanced behind and saw three lions strutting lightly behind me. I got afraid and ran faster to the cart. As I started to tire, the person with the beard stopped the cart and I, too, stopped — panting for air!
The three male lions came next to the person and nestled beside him. He sat smiling both at me and at them, running his fingers through their mane. I thought to myself,"Is this guy crazy? You can't keep lions for pets!" He looked at me as if he had heard my thought out loud and laughed. I then awoke.
I'm not sure what all this meant but I am certainly grateful to know that I was able to think and express my sincere heart-felt feelings of love towards my beloved Lord Muruga in my dream. Also, I feel that this dream answered the contents of my letter (re: USMLE Step 3) - Lord Murugan showed me that He had received and read the letter that I had wrote to Sri Ganesha (since I also mentioned Murugan in that letter :) ) which was offered into the homam.
My dear beloved Sri Ganesha and Sri Skanda — by dear dear brothers. How you both watch over me, especially you — Muruga. I love you infinitesimally!
See also: