By Sri Skanda's Warrior of Light
---
December 31, 2007
Last night, I dreamt that I was in the Thiruchendur Murugan temple and there was a festival in progress. I recall seeing a lot of devotees whom were gathered. I recall the loud rhythmic melodies played on the mridangam and pipi. I saw a priest or devotee (I couldn't tell) carrying a kumbam on his head with his eyes closed in meditation. There was another devotee holding an umbrella over the kumbam that was on the other devotee's head. They then circumbulated around the main shrine. It was at that time that I saw the big tall black vigraham of Lord Murugan before me. I remember seeing a golden light emanating from inside the mulasthaanam lighting up the beautiful form of Lord Murugan. The devotee/priest then took the kumbam inside the shrine and began to pour the water onto the big statue.
I was very happy to see Murugan's beautiful form in front of my eyes. I closed my eyes and contemplated on Him further (especially His divine lotus feet). When I opened my eyes, I saw the priest continue pouring the energized kumbam water on the big Murugan statue. It was at that time that I recall seeing a small black statue of Murugan in front of me.
I immediately picked it up and went inside the mulasthaanam because I wanted this statue to also receive the abishekam from that mantra-energized kumbam. However, I could only see the small miniature gold-plated Murugan statue with His hands in the abayahara mudra standing in front of me. I didn't know where to place the statue in my hand since the big statue was standing on the pedestal.
I then closed my eyes and uttered, "Murugaa!" and immediately the big statue in the mulasthaanam disappeared and remaining only was the black granite pedestal upon which Murugan was standing on.
I then placed the small black statue on the main pedestal, so that now only that statue remained in the mulasthaanam.
As I placed Murugan on the pedestal, I saw the little gold-colored Murugan that used to be the first statue worshipped in this temple (see picture below).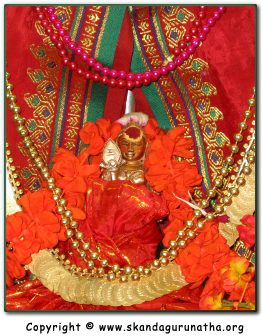 From this little statue's right hand in the aabaya-hara ("fear not") / asirvaatham ("blessing") mudra I saw bright yellow light emanate from it and it captivated my eyes and my heart. I was so engrossed looking at it the entire time. Usually, I would focus on His feet but this time, since I had a lot of worries in my life, Lord Murugan wanted to show that He is aware of all that is happening and was telling me not to worry that He is there. Truly Murugaa, you are my Thunaivan ("one who helps, does good, and is a well-wisher). It was then that I awoke.
March 28, 2008
Just to update everyone on my life's situation - if you recall, I wrote in the above experience that I was undergoing some very difficult problems in my personal life. It was then when I had the above vision of Lord Murugan in my dream reassuring me not to worry. By His grace, the problems that I was undergoing have all been solved! Thank you my Lord for helping me through the pitfalls of my own Karma!
With lots of love & gratitude (from my heart to yours),
Your child.