By Sri Skanda's Warrior of Light
---
December 22, 2001
Today, I accompanied my mother to the Nagapooshani Amman temple. At this temple, I was drawn to two peacocks that were kept in the temple for breeding. There was a beautiful male and a female peacock. I immediately closed my eyes and thought of Murugan. The male peacock was seated beside the female on the opposite corner of the cage from where I was standing. There was another person standing closer to where the peacocks were; they were trying to get the peacock's attention. However, the beautiful creatures were not too responsive to that person's presence.
Upon seeing the beautiful male peacock something inside me instructed me to sing Thiruppugal. So, the first song I sang was:
From Thiruppugal: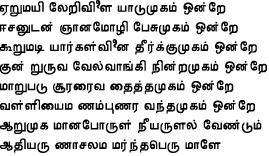 Transliteration:
ERumayil EriviLai yaadum mugam onRE
eesanudan NYaanamoLi pEsum mugam onRE
kooRum adiyaargaL vinai theerkkum mugam onRE
kunRuruva vEl vaangi ninRa mugam onRE
maaRu padu soorarai vathaitha mugam onRE
vaLLiyai maNam puNara vantha mugam onRE
aaRumugam aanaboruL nee aruLa vEndum
aathi aruNaasalam amarntha perumaaLE.
Meaning:
One face frolics mounted on the peacock;
One face speaks the mystic mantra "Aum" with Lord Siva;
One face eradicates the effects of deeds done by devotees who chant your name;
One face throws a spear, which pierces the hill called Krauncham;
One face annihilated the opposing Suran and His asuric hordes;
One face came to marry Valli;
Please inform me the mystic significance of the six faces!
Oh Primal One! Oh Lord residing at the Hill ThiruvaaNamalai!
As I was singing, the peacock got up and started to walk closer to me; slowly step-by-step. I immediately continued with another Thiruppugal song:
From Thiruppugal: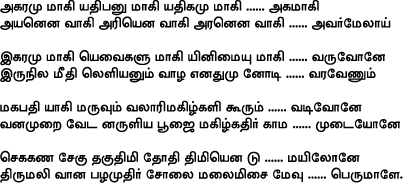 Transliteration:
agaramum aagi athipanum aagi athigamum aagi...agamaagi
ayanena vaagi hariyena vaagi haranena vaagi...avarmElaay
igaramum aagi evaigaLum aagi inimaiyum aagi...varuvOnE
iruNila meethil eLiyanum vaaLa enathumu NOdi...varavENum
magabathi aagi maruvum valaari magiLgaLi koorum...vadivOnE
vanamuRai vEdaN aruLiya poojai magiLkathir gaamam...udaiyOnE
segagaNa sEgu thaguthimi thOthi thimiyena aadum...mayilOnE
thirumali vaana paLamuthir sOlai malaimisai mEvu...perumaaLE.
Meaning:
You are the letter "A" in the alphabet;
You are the Lord of all;
You are more than these; You are within!
You are Brahma, Vishnu, and Hara; You are over and above them;
You are the letter "I"; You are everything; You are delicious;
In this big world for me to live, please do come running!
Indra the slayer of Vala, a giant, feels joy at the sight of Your Form!
The hunter living in forest (Indra) worshipped you and you enjoyed it;
Oh Lord residing at Kathirgamam!
The peacock dances to the tune: "jega gaNa seagu thagu thimi thoothi thimi";
Oh Lord abundant in wealth who resides at PaLamuthircholai!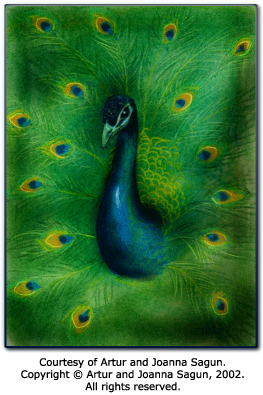 The male peacock came very close to my face (less than 30cm apart, as I was kneeling before it) and just stared into my eyes while I was singing these two thiruppugal songs. It stood patiently in front of me listening to me sing — enchanted by thiruppugal. I then finished singing to it and bowed humbly before it. It then bent its head forward in a manner that I interpreted as a blessing. The peacock then walked back to the corner where the female peacock was and sat down. Having got my darshan and blessings from Lord Muruga, I happily went home.
See also:

Thiruppugal