By Sri Skanda's Warrior of Light
---
March 23, 2001
The previous night (Thursday, March 22, 2001) I had a dream. I dreamt that I was in a temple facing a big black Ganesha statue from a distance of about 3 metres. There was no-one present except a little Brahmin boy whom I recognize from the Brampton Durga-Amman temple. This Brahmin boy is well known to the temple-going public to have a particular attraction and fondness towards Ganesha because devotees sometimes bring mangoes for Murugan, but this boy always takes it and places it in Ganesha's hand.
So here I am facing a big black Ganesha statue and this little Brahmin boy comes in front of me and attempts to get something from the Ganesha statue. I peered a little closer, interested at what the boy was attempting to get. The little boy tried desperately to pull something that was lodged between Ganesha's thumbikai (trunk). It was a thin red thread.
It appeared to me in my dream, that Pillaiyare (Ganesha) was real and not a statue. The trunk was shaped in a curl-like fashion and was holding on to a thread (similar to the thread that we get tied around our hands by the priest to protect us). The boy, tried and tried but Pillaiyare's trunk would not let go.
Then the boy, having exhausted himself, rested for a while. Then he attempted in vain a second time to get a hold of the sacred thread. Lastly, he thought deeply for a few seconds and then proceeded to get some flowers. He started offering them at Ganesha's feet. As he was placing them at the feet of Ganesha, I went closer to the statue and touched the thread. With ease, I pulled the thread from Ganesha's thumbikai. Remarkably, I did not have to use any effort to take the thread — unlike the boy.
Having got the sacred thread, I kept it hidden in my palm and waited to see what the boy would do next. The boy after offering all the flowers, went for his third attempt to dislodge the thread from Ganesha's trunk but was surprised to find out that it had disappeared. He was shocked and disappointed. He kept asking to himself, "Where did it go? Where did it go? It was here a minute a go! Where did it go?" Feeling sympathetic and guilty, I went to speak to the boy. As I was about to open my palm and show the boy the thread, I awoke!
Was that string intended for me to keep instead of the little boy? Does Ganesha want me to tie a sacred nool (thread) from the temple? These were some of the questions I was thinking of throughout today (Friday, March 23, 2001) when the following incident took place.
Having received this dream, I decided to go to the Thiruchendur Murugan Temple to get the thread tied by a priest after placing it at Ganesha's feet.

Keep in mind that I do not go to this temple often because I normally use Friday evenings to complete my homework assignments and readings for school. In fact, I don't even recall the last time I went to the temple. It was over a month ago. However, since I had this dream, I decided that I must go under Ganesha's orders.
When I went to the temple, guess who was there? A family friend (uncle) and his father whom we lovingly address as Thaatha. Thaatha is an eighty-three year old blind man who was born in Chidambaram, Tamil Nadu, and has had previous darshans and divine visions of Lord Muruga.

One time while Thaatha was at home talking to his senior friend, he suddenly held his hands together and screamed,"Muruga! Muruga! Muruga!" His friend witnessed the incident and described it to us. He said that Thaatha then started to sweat profusely and his face reflected an indescribable feeling of joy. He appeared that he was in ecstasy and was unresponsive to his startled friend's comments. Moments later, Thaatha asked his friend,"Did you see him?" His friend said,"Who?" Thaatha said,"Murugan with the Vel! Oh, so nice." Thaatha described his experience to his friend. He said that the reason he was sweating was because he saw a huge jyoti (light) in which he saw Murugan and His Vel. He felt the intensity and heat emitting from that light which caused him to sweat.
So seeing Thaatha at the temple was an additional blessing for me. My family friend (Thaatha's son) said that he had just got back from Witby and Thaatha was nagging him to go to the Thiruchendur Murugan temple. Thaatha kept telling his son that he (Thaatha) had to go to the temple because Murugan had told him that there is a malai (necklace) at the temple which he had to give me. Thaatha's son, of course, was skeptical but ultimately gave in to Thaatha's persistent pleas.
When they arrived there, [keep in mind that Thaatha is a blind man due to diabetes], Thaatha approached the Iyre (priest) and said, "There is a Malai on Murugan. Take it and give it to me. I have to give it to this boy [pointing at me]." The Iyre was confused and paused for a minute. Then he asked his younger brother (another Brahmin priest) to get the necklace from the altar that was on Murugan and give it to Thaatha.
Thaatha received it and said some mantras and placed the necklace (made of 108 sandlewood beads) around my neck. Completely shocked, I did not know what to do. How did this blind man know that there was a necklace on Murugan? How did he know I would be here at the temple today? In addition, Thaatha normally comes to our house after the temple but this time, he just placed the malai on my neck, blessed me with vibhuthi on my forehead and went home with his son!
I also got the sacred thread tied on my hand, after it was placed on Ganesha. Another amazing thing was that the thread looked exactly like the one I saw in my dream. It was red in colour!
If I did not have this dream with Ganesha, I would not have gone to the temple today. And if I had not gone to the temple, look at what I would have missed? I am amazed at how brothers, Ganesha and Murugan work together in unison to bless their children! Ganesha blessed me with the thread and Murugan blessed me with the malai. I do not know what to do with the malai. Does Murugan want me to do japa? If so, with what mantra?
My mom said to put it on the Murugan picture in the prayer room but I was reluctant to do this since Murugan, through Thaatha, put that necklace on me. I think he wants me to do Japa you know why? I have a spatika malai that I use for Japa, and I recall Sathya Sai Baba say to a devotee, "you should not use a japa malai unless it has been blessed." Well, Murugan blessed it since it was on the statue before it came onto my neck.
You know something? I used to say to the Murugan statue (in the Thiruchendur Temple) in my prayers, "I prefer to go to the Durga-Amman Temple because I feel more of your presence there (i.e. flowers fall from the Murugan statue when I pray) not here. I'll come here if you show me some proof that you are here." And now with this leela, I feel his presence even more at this particular temple and my faith subsequently, too, has increased.
Here is the picture of the japa malai, Murugan graciously gave to me - through Thaathaa.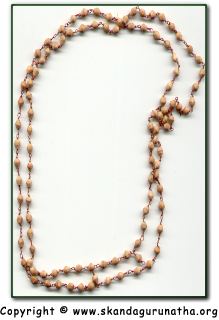 Prior to receiving Murugan's present, I was (and currently am) singing the divine masterpiece: Kanthar Anubhuthi by Sri Arunagirinathar every day. Based on my experience, I ask you to look at the power of this divine work! Kanthar Anubhuthi means God Experience of Kantha (Skanda). That's exactly what I experienced today in the temple. I am reminded of one verse in Kanthar Anubhuthi, which describes the infinite compassion that Lord Murugan showers to all His children even a once-evil minded person such as myself.
From Kanthar Anubhuthi:
Transliteration:
aaThaaLiyai onR- aRiyEnai aRat-,
theeth- aaLiyai aaNdathu cheppumathO
koothaaLa kiraatha kulik- iRaivaa,
vEthaala gaNam pukazh vElavanE. 38
Meaning:
Ignorant, knowing nothing, and still worse,
Evil-natured,- me, You accepted; what to say of this!
O Kudhala-garlanded! O Lord of the huntress!
O Lord Velayudha, hymned by ghosts countless!
I'm just overjoyed and overwhelmed by today's events. So I have decided to bathe in the recollection of today's events as I try to put myself to sleep. Good night.
August 19, 2002
Today, I awoke from having a very nice dream. I dreamt that I was in our local Thiruchendur Murugan Temple with my mother. I dreamt that we were seated on the ground singing some Thiruppugal songs. I recall my mother pointing at some song in the book and asking me to sing it. I vividly remember the Tamil writing in the book. I recall the type-setting in the book to be very similar if not identical to a Thiruppugal songs book that I have in my spiritual library in my room. Unfortunately, I don't recall the name of the song that my mother was pointing at in the book. After we sang, the priest beckoned me to come and sit beside him. He went to the altar of Sri Ganesha and picked a thread. He then tied the thread (rakshabandan — vow to protect) around my right-wrist. It was then that I awoke.
Later that day, as I was returning with my mother from work, she said, "Tomorrow, we shall have a Thiruppugal bhajan. Make sure you bring that Thiruppugal book, which contains many songs."
I smiled in realizing the connection between my dream and the words that came from my mother's mouth. I said, "Ok Amma. We shall have a Thiruppugal bhajan."
References:

Karthikeyan, N.V. Kanthar Anubhuti (God-Experience) of Saint Arunagirinathar. 2nd ed. India: Divine Life Society, 1990.
See Also: