(pronunciation = 'thiru va-gu-pu')
By N.V. Karthikeyan
---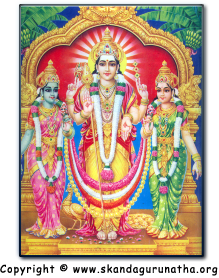 Thiru Vaguppu is a work with 25 sections, each one specially devoted to portray the greatness of the different aspects of or matters connected with the Lord — His Feet, His devotees, His principal weapon (Vel), His consort Valli, His twelve divine hands, His eye's grace-glance, Arunagirinathar's Thiruppugal, etc. Unlike the other works, since each section deals with a particular object, it is called Thiru Vaguppu. Vaguppu means "section" or "a group of verses" and Thiru means "Divine" or "pertaining to the Divine."
It is held by many that the first 18 sections are only Arunagirinathar's and that the remaining sections are later interpolations.
The noteworthy feature of this work is that there is no mention about sex and fear of death, which two subjects are to be seen invariable in all the other works of Arunagirinathar. Hence, many are of the opinion that this work should have been given by Arunagirinathar after becoming the parrot.
Saint Thayumanavar clearly says, "Kanthar Anubhuthi Petru Kanthar Anubhuthi Sonna."
(Meaning: The Kanthar Anubhuthi which was given after attaining Anubhuthi or direct Experience of Lord Skanda)

Thiru Vaguppu
(PDF - 274KB | Tamil & English lyrics | © Skandagurunatha.org)


---

Dear Devotee, your help is needed...
If the following applies to you, please contact the webmaster:

(a) You have a proficiency in Tamil and English and would love to offer your God-given gift to help translate the meaning of Thiru Vaguppu into English;

(b) You have a musical recording of Thiru Vaguppu and would like to help other devotees learn this sacred work through audio;

Thank you so very much!
References:

Karthikeyan, N.V. Kanthar Anubhuti (God-Experience) of Saint Arunagirinathar. 2nd ed. India: Divine Life Society, 1990.