(pronunciation = 'thiru-ae-lu-koo-tru-iruk-kai')
By N.V. Karthikeyan
---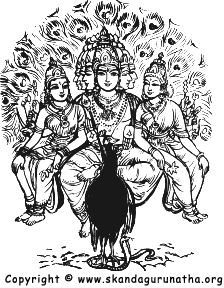 Thiru Elu Kootru Irukkai is a single poem composed by Sri Arunagirinathar. It comes under the category of Chitra-Kavi and consists of numbers one to seven in ascending and descending orders (as 1; 1-2-1; 1-2-3-2-1; 1-2-3-4-3-2-1,; etc.) and is capable of being portrayed or encased in a drawing. It is a rare piece of work, the like of which is composed by a few poets only.

Thiru Elu Kootru Irukkai
(PDF - 77KB | Tamil & English lyrics | © Skandagurunatha.org)



Thiru Elu Kootru Irukkai
(MP3 - 2.3MB | Artist: Guruji S. Rhagavan | © Kaumaram.org)


---

Dear Devotee, your help is needed...
If the following applies to you, please contact the webmaster:

(a) You have a proficiency in Tamil and English and would love to offer your God-given gift to help translate the meaning of Thiru Elu Kootru Irukkai into English

Thank you so very much!
References:

Karthikeyan, N.V. Kanthar Anubhuti (God-Experience) of Saint Arunagirinathar. 2nd ed. India: Divine Life Society, 1990.