By Sri Skanda's Warrior of Light
---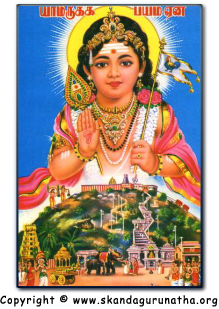 Bhajans are sacred devotional exercises in which lyrical compositions or devotional hymns on the different names of God are recited. These hymns, also termed namavalis, are composed into a pleasing and repetitive form with a distinctive beat and rhythm, so that the listener can easily learn and chant the song. Bhajans are conducted in such a manner that a lead singer chants each line and then pauses to allow the congregation to repeat the words. When we all sing bhajan songs with sincerity and love, our faith and bakthi (devotion) towards God strengthens. There is no greater or easier means of attaining God-realization in this Kali Yuga Age (present day) than chanting and remembering the name of the Divine. When God's Name is chanted as a song set to melodious music, it delights the heart of the singer and the listener immensely because it tugs at the heart's strings. Bhajans foster bakthi within an individual's heart, which leads one towards the light of wisdom and away from the darkness of ignorance.
Note: For personal (spiritual) use only. Commercial use is strictly prohibited.
---

Appa Appa Aasai
(MP3 - 13.8MB | Tamil | © Sri S.P. Balasubramaniyam)
Courtesy Raaga.com from "Murugan Pugazh Malai"

Anbarukku anbanae
(MP3 - 1.2MB | Tamil | © S. Pranava)
Incarnation of the Kaliyuga (the present age). Obeisance to Lord Muruga, also known as Kartikeya, Shanmukha, Muruga, Vadivela, and Guha.
Victory to Lord Muruga, who holds the powerful Vel in his hand, and known as "Saravanabavan." Oh handsome Lord! Please come down to save your devotees.
Surrender to Lord Muruga, whose vehicle is peacock with beautiful feathers, Consort of Valli, who protects those who surrendered, younger brother of Lord Ganesha, who destroys our fears, doubts, etc. and beloved son of Sakthi.

Pachchai Mayil
(MP3 - 1.9MB | Tamil | © S. Pranava)


Pachchai Mayil
(MP3 - 5.9MB | Tamil | © Sri Pithukkuli Murugadas)
We surrender to Lord Subrahmanyam, who has a charming face and who protects all with his Vel.
Victory to Lord Subramanyam, son of Siva Shakti and Uma. From Palani Hills, he has come down to bless us.
Victory to beautiful Muruga. Thou art known as Shanmukha, saravana Bhava, Guha, the Supreme Guru, Lord of Palani, Son of Sakthi, Murugesa holding the Vel.

Singara Vel Muruga
(MP3 - 1.9MB | Tamil | © S. Pranava)
Come! Lord Muruga (Subramanyam) son of Siva and Sakthi; who taught the meaning of AUM to Siva. Come! You who is another form of Sakthi. Come Lord Muruga!
Worship the charming-faced Lord Subramanyam, second son of Lord Siva. Surrender to Lord Subramanyam who breaks the chain of samsara.
Salutations to the Lord Muruga who resides in South Palani, Swami Malai, Parthi etc. who sits enthroned on a peacock, who has the victorious Vel given by his Mother. Prostrations to You!
Chant the many names of beautiful Lord Muruga: Kanda, Kadamba, Subramanya, who resides in Kathirgamam; who killed the demon Sura with his powerful Vel.
References:

Om Sakthi Narayani Amma. Sri Narayani Amma Speaks - Volume 1. Canada: Om Namo Narayani Foundation, 1999.


Sai Bhajans. 4th Ed. Toronto: Sri Sathya Sai Baba Book and Information Centre, 1998.