By Sri Skanda, Son of Siva
---
"There has to be patience on the spiritual path in relation to worldly activities. A yogi or aspirant takes many years to master each of the seven chakras, or nerve centers in the spine that start at the coccyx and end at the top of the head. The aspirant must have patience in overcoming difficult situations which reoccur constantly. Master one at a time, then begin the next, and you will not be overwhelmed.
"A tree cannot grow on a rock. It must have soil, soft soil, in which it can be planted. The soil is the heart. The rock is the hardness of worldly activities.
"In the army, they drill over and over again; then they go to war. They know how to carry out the command — and so with your body. The mind is the commander.
"Your minds are going in too many directions at one time. Concentrate on one problem and change that. If you try to juggle too many balls at one time, you drop them.
"Remember the Vel, the lance, is the spine, and the top is bursting into the Light of Jyoti. Understand what the achievement will be, what we can expect. Too many aspirants want quick results. My Vel is a symbol of victory for you to remember.
"Look at your own body. Is it perfect? Is your posture perfect? Complexion smooth? Breath fragrant? If this is not so, the physical body must be put in order. Examine the physical signs. If you have any manifestations of imperfection, ask yourself, 'What should I do to change this?' Think, think, and think again until a conclusion is reached. With your conclusion, go forth and advance in victory.
"My Vel is the symbol of victory. Look on the Vel and remember victory.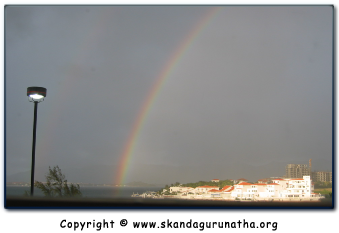 "Every time you see a rainbow — whether in the sky, on the television, on a car, on a building, anywhere — think on me, Skanda, and say my mantra three times, and I will be there.
"I, Sri Skanda, have spoken in Love."