By Hilda Charlton
---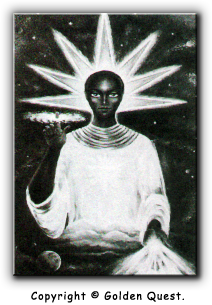 Her beautiful ebony black face appeared in a vision with exquisitely chiseled features, and She called Herself Yeman-Yah. The Universal Mother spoke:
"I show Myself to those of My people as they can perceive. To those who need form, I am the Mother of the peoples of the plains, forests, rivers, mountains, deserts, and of the nomads. To those who need no form, I am the Light from which all form proceeds."
Seven rays flow from Her head. Seven strands make up Her collar of seven different metals. Rays flow to Earth from Her heart and from Her hands, unceasingly blessing Her children of the Earth.