By Sri Skanda's Warrior of Light
---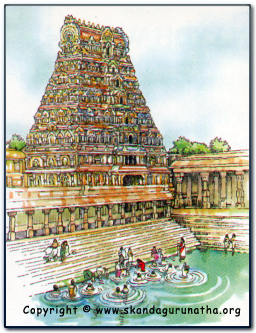 Kali Yuga, the age indicating a period of darkness and degeneration commenced about 3100 B.C. Many Hindus believe that the presiding deity of this yugam is Lord Muruga (Kali yuga varathan) whose Vel, which symbolises the spear of victory, will eventually restore peace and harmony, destroying arrogance, violence, and injustice. The worship of Lord Muruga dates back to the pre-Christian era and forms an important facet in the religious life of Hindus.
The poet Nakeerar, of the Sangam age, sang many songs in praise of the Lord. Among them is the well-known composition thiru-murugaa-trruppadai, which describes the six most important abodes of Lord Muruga (Aarupadai veedu). They are:
Thirupparankunram
Thiruchenthur
Palani
Swamimalai
Thiruthani
Palamuthircholai
Lord Murugan abundantly blesses devotees who worship at these holy places. All six temples are located for the most part on hilltops in Tamil Nadu. His various different forms in these temples are suited to the different stages in the evolution of the devotee. When peace and bliss are required, the forms at Thiruthani and Thiruparankundram are helpful. The image at Swamimalai, where Lord Skanda taught God Siva, is of value in learning mantras and spiritual advancement. The form at Thiruchendur shows the Lord prepared for battle (against the evil forces of our lower selves, namely lust, hate, jealousy, and greed). Renunciation of the world is assisted by the form at Palani. Total wisdom is obtained by concentrating on Pala Muthir Solai, where there is no form but only a Vel, or Jyoti, resides.
These six abodes, together with numerous other temples dedicated to Lord Muruga, are a vibrant testimony to the continuing worship of this deity by His numerous and countless devotees. At these shrines, they find themselves liberated from the narrow prejudices of caste and language. They all become devotees with one goal, to have Kanthar Anubhuthi — God-experience of Lord Muruga.
It is said that no deity responds more easily than our dear Lord Skanda. In whichever form we worship Him, He blesses us in full measure and is truly bountiful.
References:

Alagappan, Alagappa. (Charlton, Hilda. Skanda. New York: Golden Quest, 1989.)


Ramachandran, N. (www.lacnet.org/island/i990103/feature.htm#Six abodes of Lord Muruga)

The Skanda-Kumara Website (www.murugan.org)